Companies of all sizes use Insperity TimeStar time and attendance to get the most value from their workforce, even while reducing their payroll and HR costs.
TimeStar automates data capture, scheduling and time-tracking enabling businesses and employees to manage time in the most effective way. It enables you to resolve scheduling gaps, anomalies and time-off requests in real-time and gives you configurable tools to monitor attendance patterns and other trends.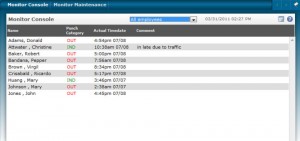 Supervisor's real-time alerts
The comprehensive underpinning information in TimeStar integrates seamlessly with other workforce management software.
Deepak Sareen Associates has over 15 years experience of implementing time tracking and billing solutions for all sizes and types of business.
Please visit the Insperity TimeStar web site for more detail and the short video tour