Businesses large and small use Time Sheet Professional for their project-oriented time tracking needs.
As a manager, you have full control of getting the information you need, when you need it and in the format you want it. It's quick to deploy, highly configurable and easy to use. You can customise the database and the reporting to the precision and depth you require.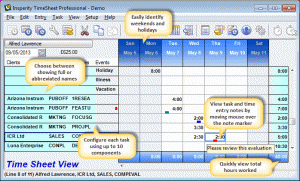 Simple, spreadsheet-style data entry
Existing users have chosen TimeSheet Professional to improve their efficiency and profitability, through enhanced:
Time tracking
Expense tracking
Project tracking and costing
Project budgeting and scheduling
Automated invoicing
Project and client profitability analysis
Work in progress valuation and reporting
Deepak Sareen Associates has over 15 years experience of implementing TimeSheet and other time tracking and billing solutions for all sizes and types of business. It is the exclusive UK and European distributor for TimeSheet Professional.
Please visit our Insperity TimeSheet Professional web site for more detail and the 10-minute tour